Quick & Easy - with Help when you need it
Software doesn't have to be difficult. But it often is. Convoluted screens, poor work-flows and inadequate help systems are far too common. We hear almost every day from people in the finance industry who say the software they currently have is ugly or confusing. And it's often ugly AND confusing!
The problem with most of this software is that it's been designed by programmers. And, while they might be great at programming, they've probably never done your job.
LinxCRM changes all that. Our programmers program - that's all. The user interface - the menus, screens and help system that you see - are all designed by people with hands-on experience in financial services. They've done sales, accounts and admin - just like your team - so they know intuitively what's needed. The result is a crisp, clean, powerful program that's a pleasure to use.
Simple setup
LinxCRM can be downloaded and self-installed in just a few minutes, with no fancy equipment needed. It's literally as simple as 1-2-3. and you can be entering your first client in no time.
LinxCRM works on all recent Windows computers from (Windows 7, 8, 10) and most installations won't need any technical help. For larger installations it works well on Windows Server products.
And, once installed, the Quick Start Guide will walk you through the next steps in your own time.
(To see how easy it is to install and use you can download a copy now for free).
World-class help system
You don't need to wade through boring manuals or pay for expensive training. Just one click on any Help button and you'll go straight to our world-class, online help system, right to the subject you need.
There you'll find detailed instructions and handy tips to help your team get up to speed in the shortest possible time.
All available 24/7.
Sample data and testing area
LinxCRM even comes with a full set of sample data - 50 clients with finance, insurance and financial planning entries already set up so you can see how things work in a realistic fashion.
You can even copy your own data into a Training area so your staff can test out procedures without risk to your live data.
Human help, too!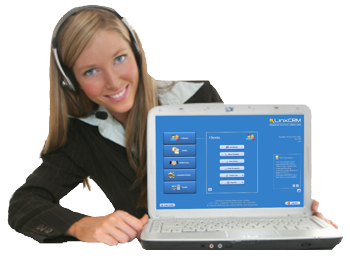 Sometimes there's no substitute for a human and our Help Desk team is available to answer your questions and provide advice whenever needed. Again these are people who understand the industry, rather than technical people.
Most help is entirely free, although advanced training or technical assistance is also available (though rarely needed) on a fee-for-service basis.
PS: We'll let you in on a little secret. Publicly we say we will give a meaningful response to help requests within one business day - so, typically, 24 hours. Internally we strive for 24 minutes - and usually succeed!